"BE GOOD AT DOING GOOD" BOOK
My greatest desire is for you to do good for yourself, your business, and your causes—and to be awesome and have fun while you're doing it. This is achieved as you tap into your passion, purpose, and talents to accelerate your achievement as a business owner, entrepreneur or executive director.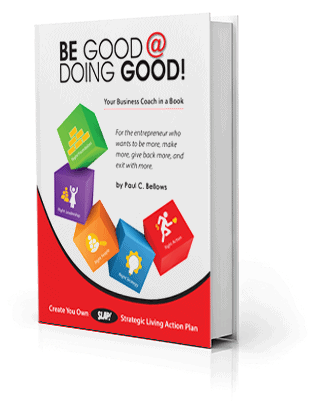 BE GOOD AT DOING GOOD: Your Business Coach in a Book
During my journey as a business consultant, coach, facilitator and speaker for the last 15 years, I found a great demand to put together my unique perspective and processes into an easy-to-read guide that can be applied by almost any business leader.
One of the major challenges I see on an everyday basis is a failure to develop a strategy for your business by learning and mastering strategic thinking. Most of you are great at what you do—plumber, chef, architect, or writer; you wouldn't be in business doing it if you weren't. But expertise in your chosen field isn't enough. A superior product or service, a scalable, profitable business model, and a hallmark customer experience don't just happen. They come from being focused and detail oriented, a master of tactics whose every action is carefully planned to achieve a specific, strategic end.
My book is a strategic planning guide that gives business owners and executive directors the fundamental step-by-step process to build this strategy and become a sustainable world-class organization. The book is in final edits and will be released by the spring of 2020.
CLICK HERE
to schedule a free 30 minute phone
consultation with Paul Bellows.
Let's have an
introductory
mutual evaluation
conversation.